After kind of boring xmas vacation with many RNLI videos by lucky chance I got hold of a Tyne class lifeboat (see wikipedia) hull and 2 sheets of plans. With help from the ⇒ mayhem model boat forum I also got the 1986 journal built report.
The hull and plans from sarikhobbies (I got it from a forum friend in germany) are of scale 1:19, very close to my prefered 1:20 scale.
Just the boat alone would be too easy, I thought ;0) — actually the low deckhouse and the general form of the ship is related to the option of boathouse with slipway use. For the Tyne class lifeboats (most of?) the boathouses and slipways just needed some modification and not a full rebuild. Therefore length, width, height and weight were limited.
So the Tyne class lifeboats are somewhat strong related to slipway boathouse. For me, that means I have to build more than 'just' a boat :0).
From 1982-1990 40 lifeboats of this type where built, some of the for slipway use. As I have no relation to any station the internet had to deliver the decision what to build. Finally Douglas station at the Isle of Man won, the boathouse has no extensions and on their facebook page I could find several usefull images from the inside. Meanwhile I even fould a plan of the boathouse online. And finally, just the name of the ship alone "SIR WILLIAM HILLARY" should be worth to built exactly that.
Unfortunately I have no photos of the original to show, but via this external links you can have a look at it:
About my model, the boat:
The hull has a length of 74,x cm about a cm longer than 1:19. 2 motors (probably Krick Power 550), slight flexible coupling to the shaft. 35mm brass propeller (scale would be 38mm). Electronics are not set at the moment.
Planned functions boat:
manually movable trim plates (currently in built)
navigation lights, spotlights, rotating radar (rc switched)
rc foldable mast + radar
rc backfoldable antennas
double original motor sound
maybe a moving person with the mast folding.
About my model, the boathouse:
The boathouse should also be used as a tranport and storage box for the boat. I made a frame of aluminum profiles, walls and floor will be of 3-4mm plywood and roof probably 1mm plywood.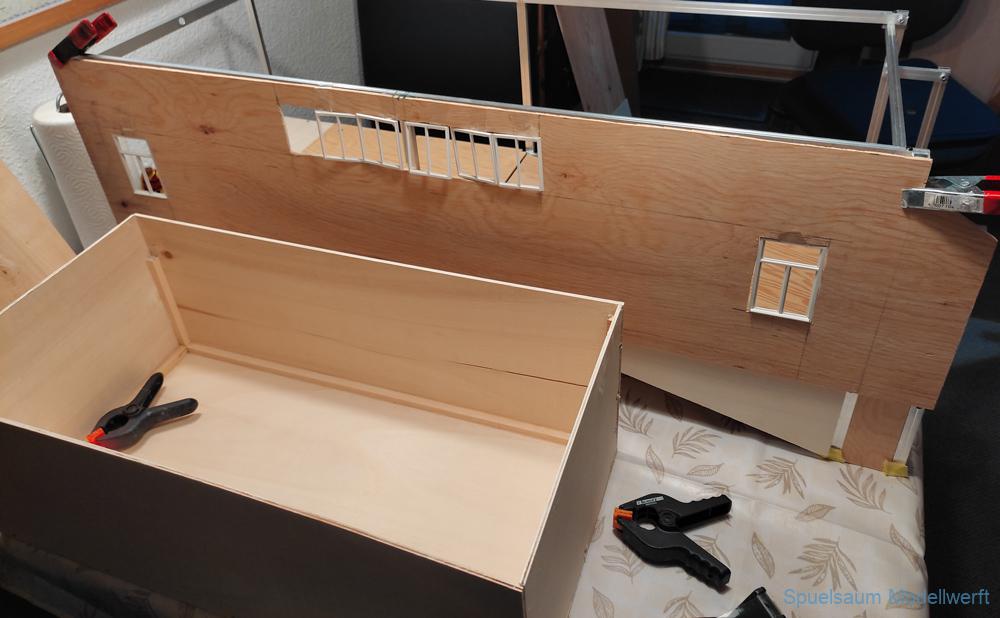 Still in progress ….
Planned functions:
rc working winch
probably rc opening + folding back of the front doors
lights
rc switched alarm sirene
rc switched boat releas
rc based uphauling of the boat
probably moving people
About my model, the slipway:
I could have chosen an easier slipway (Wicklow was my favorite) but alltogether it's just built by a set of repeating parts. With the help of a 3D printer and lasercut that should be possible.
I've already made up a sketch and started with some parts: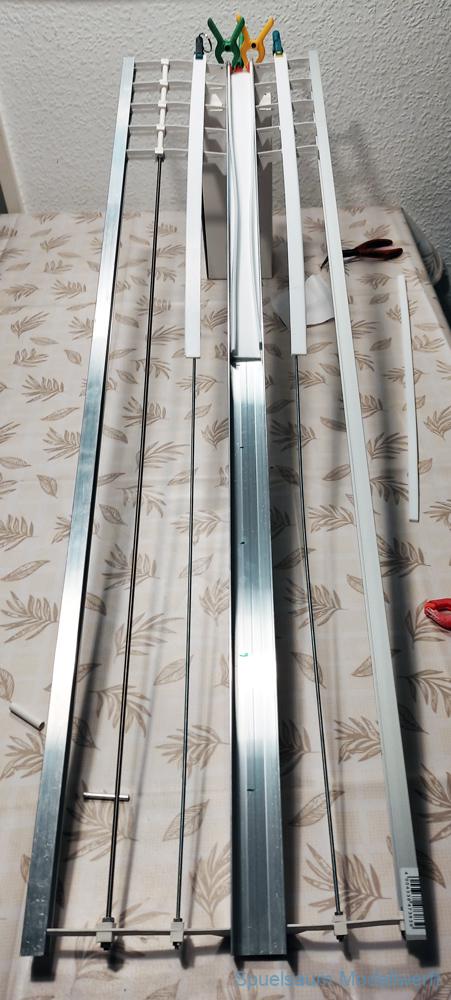 Needs:
must be easy sticked to the boathouse
somehow storable and easy transportable
probably variation in height (for both slipway and boathouse)